COMICS
MIZZLE
Started in 2015 as a webcomic, and was rebooted in 2017 in printed format, following an updated plot and storyline.
Plot
Mizzle is a young woman / cat mutant who lives in Middenbottom, England, and who works for MOG Industries, the top superhero agency in the country. Her overactive imagination is the source of gripping fantasies for Mizzle (and amusement for us), but also the catalyst for the life-changing adventure she is about to embark on with her heavy metal badger friend, Muggy.
THE LIFE OF ETHEL DEATH
Published in Splank #1 (2018)
and ComicScene UK 2019 Annual
Plot
Ethel is a young grim reaper in training, living with her grim reaper family in a quiet suburban neighbourhood. Learning to guide souls to the afterlife isn't made any easier by administrative incompetence, sibling rivalry, and deep down, the knowledge that she isn't really grim reaper material. It's a story that's dark, silly and sweet all at the same time.
"My God, what sick mind dreamed this up? It is brilliant!" – Steve MacManus
CONVERSATIONS WITH MYSELVES
Launched at Thought Bubble 2017
This is a one-off, feel-good book all about embracing different aspects of our personality, overcoming feelings of guilt or inadequacy, and generally being kinder to ourselves... Like a warm blanket for a battered soul. I wrote it one night when I was battling pneumonia with 40C plus fever.
Published in Blunderthrust #1,
and Dirty Rotten Comics #9 (2016)
An illustrated poem with a dark twist, written by Tom Burleigh, and art and concept by me.
THE LAMENT OF GRAVLAX
A one-off comic published in Sector 13 Issue 5, 2019
"This great looking self-contained little masterpiece of alien invasion comedy delivers wit, subtle satire and social commentary, and a nice sting in the tail, all in a delightful and slightly disturbing four pages."
– Keith McVeigh
"Aliens want to abduct some humans but because of all the PC nonsense on their planet they have to be subtle and kind about it, no 'zap bam boom' or death rays allowed! Byrne has a knack for humour that combines well with the colourful, cartoony visuals that jump off the page. Excellent work!"
– Alan Holloway, The Imaginarium
COLTARD THE CONQUEROR
A one-off comic published in Sector 13 Issue 6, 2019
Story by Glenn Matchett. Art by me.
MEDIORC
Published in Sliced Quarterly #4 (2016)
"In Cat Byrne's contribution, Mediorc, we see a monstrous creature purchase and devour a can of ravioli... that's literally it. It's such an odd comic that it skyrockets itself into the extraordinary. My mind has been boggled by this mediocre orc, and I've begun dreaming up other scenarios I'd like to see. Cat Byrne's art is really enjoyable here, and I thoroughly enjoyed this story; it reminds me of canned raviolis in that there's not a lot of sustenance in its ingredients, but it keeps coming back up throughout the day."
– Anthony Ray Bench, for FanboyNation
RABBITT STEW COMICS
An occasional webcomic for the Rabbitt Stew Podcast
Written by Glenn Matchett & Ray Goldfield
A fan comic collaboration with my son, age 7
Sector 13 #2, 2nd print (2018)
Cover art of Judge Dredd for the Belfast 2000AD fanzine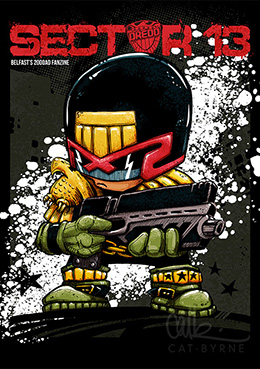 For Out of Hours Comics (2016)
One of my earlier comics, experimenting with gore as a genre. All stories were written by Mert Yeygün.
OTHER PUBLICATIONS
The Window by Tom Burleigh and Cat Byrne
role: illustration
Reluctance by Tom Burleigh and Cat Byrne
role: pencils & letters